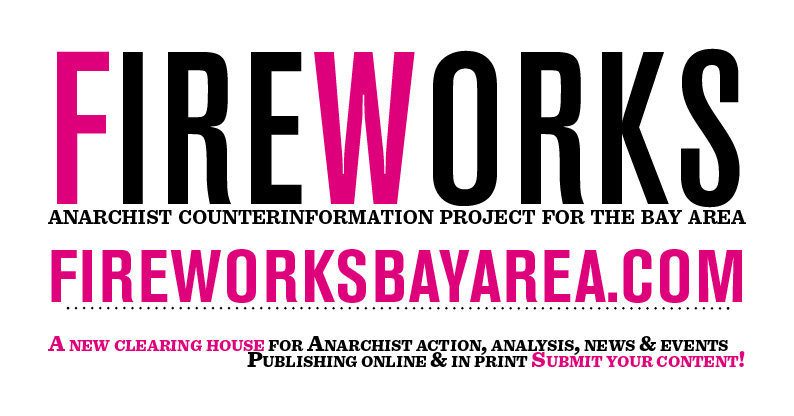 From Fireworks:
"Say infrastructure and you're saying that life has been detached from its conditions. That conditions have been placed on life. That life now depends on factors out of its control, that it has lost its footing. Infrastructures organize a life without a world, suspended, expendable, at the mercy of whoever is managing them." -The Invisible Committee, 2014
Black Spring, Dirty Water
Without assuming too much, it is fair to say that you are currently at the mercy of the East Bay Municipal Utility District (EBMUD). If you refuse to pay them for water, they will eventually put a lock on your water meter. If you clip the lock and turn the water back on, they will remove the meter and disconnect your house from the pipe network. The money you must pay to EBMUD is supposedly meant to maintain the infrastructure and pay the workers, although it is hardly that simple.
The biggest customer in the East Bay is the Chevron refinery in Richmond. Every day, the refinery uses up roughly 10 million gallons of water. In a single week, it consumes enough water to supply 500 houses for a year. Throughout the year, the refinery uses over 3 billion gallons of water. Up until 2010, the refinery drew from the same water supply as every other EBMUD customer. But since 2010, around 7.5 million gallons of waste water are being recycled from the municipal network. Today, the refinery only uses around 2.5 million gallons of fresh water a day, or 15 million gallons a week.
According to the UN, humans need just over two gallons of water a day to survive. As it stands, every day that the Richmond Chevron refinery is operational, it consumes enough fresh water to satisfy the needs of 4,500people for an entire year. The annual water use of the refinery is equivalent to the amount needed to supply the combined populations of San Jose and Oakland for an entire year. EBMUD services 1.3 million people, yet its biggest customer consumes more in a year than the entire population of the East Bay. Even with its recycled water, the refinery is a glaring example of the fundamental contra diction of capitalism.
10 million gallon of water goes into the refinery each day and out comes 250,000 barrels of refined petroleum, or 4,750,000 gallons of gasoline. In other words, for every two gallons of water put into the refinery, less than one gallon of gasoline comes out. This gasoline isthen burned up by millions of vehicles at varying rates. A hybrid Prius can travel 50 miles on each gallon, whereas a Suburban SUV can travel only 20. Either way, both vehicles release climate changing carbon molecules into the atmosphere at consistent rates, thus contributing to the long drought in California. But despite all of the available data, the Chevron refinery is still using up 2.5 million gallons of drinking water per day, all so that millions of other people can poison the atmosphere and warm the planet.
Something is clearly wrong with this situation and it is no exaggeration to say that it needed to be stopped years ago. With a bleak future ahead of us, it is important to begin formulating an exit strategy. Making matters worse locally, EBMUD announced that is will be raising a surcharge to water rates by 24% on all customers. The reason for the raise: people are using less water. Because people are cutting back their use, EBMUD is getting less revenue coming in. But raising the cost under the guise of "drought conditions," the agency can bring in more cash. The 'drought surcharge' is coupled with a permanent hike of 8%, which was supposedly implemented to replace crumbling infrastructure and pay off debts for construction projects. The current raises by EBMUD is a classic austerity move, pushed through the auspices of water conservation and raging drought.
Furthermore, while poor and working-class people are cutting back on water use, many wealthy Californians baulk at the idea of cut ting water consumption. As one upper-crust put it in the SF Gate, "People should not be forced to live on property with brown lawns, golf on brown courses or apologize for wanting their gardens to be beautiful. We pay significant property taxes based on where we live, [and], no, we're not all equal when it comes to water." Like everything else, to the rich and corporations go the spoils and water. For everyone else, we pay out the nose. Continue reading →