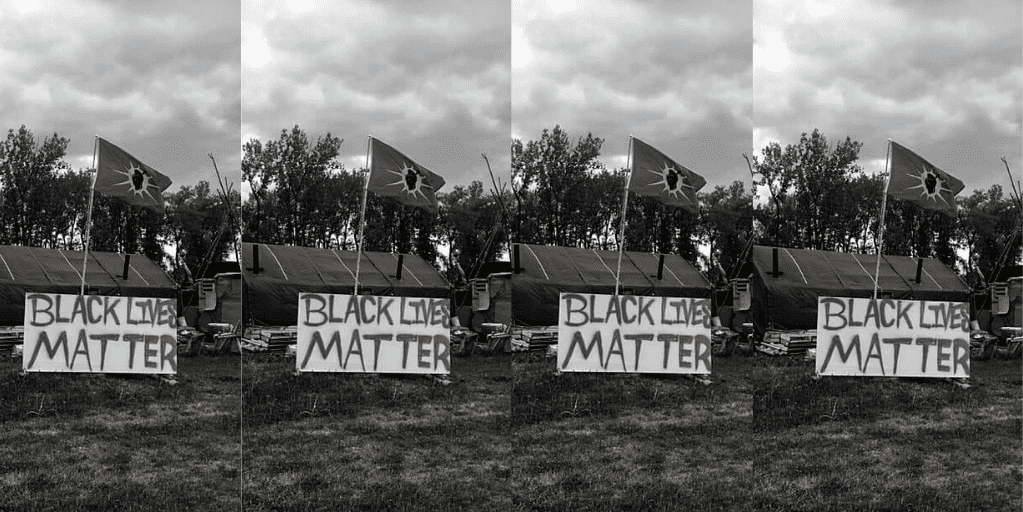 By Sefanit Habtom and Megan Scribe, Yellowhead Institute
AS THE COVID-19 pandemic continues, many increasingly ask, "when will things go back to normal?", "can we ever go back to the way things were?" and, in even more frightened moments, "could this be the end of the world?"
For Black, Indigenous, and Black-Indigenous peoples, these are not new questions. Since white settler ships landed on Indigenous shores with enslaved Black people in cargo holds, we have asked these very questions; but have asked them without ever letting the uncertainty of the answers deter us from striving to unmake the so-called "New World" in pursuit of something otherwise.
Unmaking is a desire for worlds in which Black, Indigenous, and Black-Indigenous peoples can breathe and live full lives.
The original prompt for writing this piece was "how can Indigenous people show up for Black communities right now?" But we have taken a slightly different approach, thinking instead about our shared experience of surviving within white settler society, while at the same time, taking seriously the antiblack and genocidal imperatives that mark us differently.
Tiffany Lethabo King has called on Black and Indigenous Studies academics, activists, and artists to imagine "how Black and Native communities can 'end this world' and remake reality and its relations on more just terms" (2019, p. 209). To engage with this call, we reflect on the violent conditions bringing Black, Indigenous, and Black-Indigenous peoples together and collaborative paths forward.
Click here to read the full article…
About the Authors
Sefanit Habtom is a doctoral student in the department of Social Justice Education, at the Ontario Institute for Studies in Education, University of Toronto. Her research is on Black student organizing that focuses on land. She is Eritrean and hails from Vancouver, BC.
Megan Scribe
(Ininiw iskwew, Norway House Cree Nation) is an interdisciplinary Indigenous feminist researcher, writer, and educator. Scribe is an Assistant Professor in the Department of Sociology at Ryerson University. Her research establishes connections between violence in the lives of Indigenous girls and settler colonialism. She is a longtime Community Council Member for Aboriginal Legal Services' Diversion Program and a member of the Planning Committee for the annual Strawberry Ceremony.