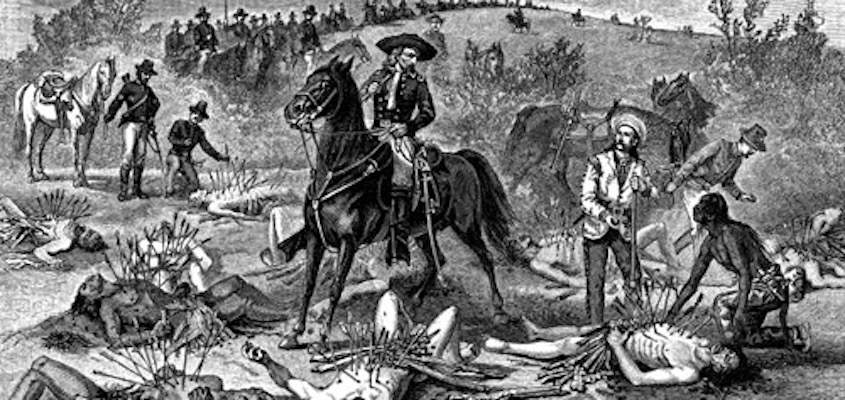 By Glen Ford, Black Agenda Report
The mythology that Thanksgiving nurtures is itself inherently evil.
"The Mayflower's cultural heirs are programmed to find glory In their own depravity and savagery in their most helpless victims."
Nobody but Americans celebrates Thanksgiving. It is reserved by history and the intent of "the founders" as the supremely white American holiday, the most ghoulish event on the national calendar. No Halloween of the imagination can rival the exterminationist reality that was the genesis, and remains the legacy, of the American Thanksgiving. It is the most loathsome, humanity-insulting day of the year – a pure glorification of racist barbarity.
We at BC are thankful that the day grows nearer when the almost four centuries-old abomination will be deprived of its reason for being: white supremacy. Then we may all eat and drink in peace and gratitude for the blessings of humanity's deliverance from the rule of evil men.
Thanksgiving is much more than a lie – if it were that simple, an historical correction of the record of events in 1600s Massachusetts would suffice to purge the "flaw" in the national mythology. But Thanksgiving is not just a twisted fable, and the mythology it nurtures is itself inherently evil. The real-life events – subsequently revised – were perfectly understood at the time as the first, definitive triumphs of the genocidal European project in New England. The near-erasure of Native Americans in Massachusetts and, soon thereafter, from most of the remainder of the northern English colonial seaboard was the true mission of the Pilgrim enterprise – Act One of the American Dream. African Slavery commenced contemporaneously – an overlapping and ultimately inseparable Act Two.
The last Act in the American drama must be the "root and branch" eradication of all vestiges of Act One and Two – America's seminal crimes and formative projects. Thanksgiving as presently celebrated – that is, as a national political event – is an affront to civilization.
Click here to read the full article from Black Agenda Report…
This article first appeared in the November 27, 2003 issue of The Black Commentator.